Millions of computers and smart devices get infected because their owners still think that they don't really need an Internet security software and antivirus application. For example, some of the users claim that all they do is visiting only safe pages. However, there are a lot of different ways to accidentally infect your PC and lose sensitive data, even if you think otherwise.
However, today's offerings are wide and users can struggle in choosing one.
Researchers at Reviewed by Pro constantly test reviews and compares various security products to help you choose the right one for you.
So if you are choosing between the security industry giants McAfee and Panda.
McAfee or Panda?
If you do not have time to read the entire article, check out the table below which reveals the main features we have tested and the winner.
| | |
| --- | --- |
| Feature | Winner |
| Pricing | Panda offers are more flexible plans and lower prices. |
| Antivirus protection | McAfee demonstrates better malware detection rates. |
| Security features | McAfee offers more security, performance and privacy features. |
| System-performance impact | McAfee demonstrates lower impact on system performances. |
| User Interface | Panda has a more intuitive and pleasant user interface |
McAfee overview
McAfee is developed by an American-based cybersecurity giant McAfee, Inc. The company was founded in 1987 by John McAfee, and in 2011, it was purchased by Intel Corporation. Today the company is headquartered in Santa Clara, California.[1]
McAfee develops advanced security solutions to individual users, small and large businesses, enterprises and governments.
McAfee offers a range of products for Windows, Macs (McAfee Total Protection for Mac), Android (McAfee Mobile Security & Lock for Android), and iOS users, it also provides security solutions for endpoints, networks, and cloud from viruses, malware, and other security threats.
| | |
| --- | --- |
| Feature | Score |
| Antivirus protection | Very good |
| Additional features | A decent set of extra security and privacy features |
| System-performance impact | Minimal |
| Scans | Scans are very informative |
| User interface | Light and simple |
Panda Overview
Panda Security is a Spanish-based software company. It specializes in providing security software, including antivirus, firewall, spam, and spyware detection, as well as advanced cyber security services with technology that prevents cybercrime since 1990.[2]
Panda Dome is a once-complex suit of next-gen antivirus applications that are compatible across all of your devices, including Windows, Macs, Android and iOS devices, as well as smartwatches.
Panda also develops a range of products including Panda Dome for Windows, Panda Dome for Mac, Panda Antivirus for Android and iOS devices.
| | |
| --- | --- |
| Feature | Score |
| Antivirus protection | Decent |
| Additional features | A very decent set of extra features for free |
| System-performance impact | Heavy |
| Scanning performance | Slow scans with a medium impact on a system |
| User interface | Pleasant interface which can be customized |
Offerings
McAfee develops a variety of products. When it comes to Windows antivirus, McAfee lets users choose from the following two packages.
McAfee LiveSafe

McAfee Total Protection
All the McAfee products include a 30-day free trial, so you can try the program before purchasing it.[3]
Panda Dome offers users with a free version of the application and has four paid versions, including the following:
Panda Dome Essential

Panda Dome Advanced

Panda Dome Complete

The most expensive tier that also includes a Premium VPN Service, Panda Dome Premium.
All Panda products:
Discounts and offers are often available.[4] Our readers actually get 25% discount. So make sure to check our offer!
Panda also offers users a 30-day money-back guarantee, so you will be able to test the application and see whether you like it or not.
Features
When it comes to McAfee, it also develops various tools for consumers, including Identity Theft Protection, TechCheck, Tune-Up, Virus Removal Service or more.
When it comes to security, McAfee offers two types of packages,
McAfee Total Protection offers protection up to ten devices and also comes with separated licenses for Android devices, Macs, and iOS handsets. It delivers a premium feature set including antivirus, anti-malware, anti-ransomware, performance features, Firewall, Network Monitoring, ID Theft Protection, Parental Controls, and others.
McAfee LiveSafe adds the same Premium features and can cover an unlimited number of devices.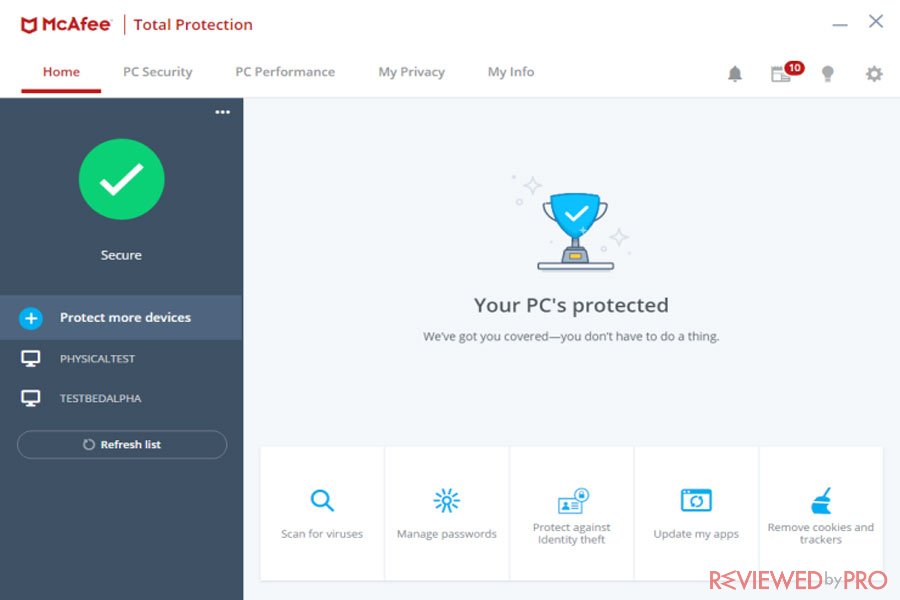 When it comes to Panda, the security provider offers free Panda Security application and four types of paid plans:
Panda Dome Essential includes antivirus and personal firewall, it also protects Wi-Fi, secures online browsing and shopping, as well as protects USB device.
Panda Dome Advanced offers all what Panda Dome Essential offers and also Protection Against Ransomware and all types of viruses, Parental Controls, App Lock and Call Blocker.
Panda Dome Complete offers all that Panda Dome Advanced does, and also includes Data Protection and Password Manager, Device Location, TuneUp, and Remote Control.
Finally, Panda Dome Premium includes all the mentioned features and also adds 24/7 unlimited premium technical support and Premium VPN service.
Panda Dome products are compatible will the major operating systems including Windows, Android, Macs, and iOS.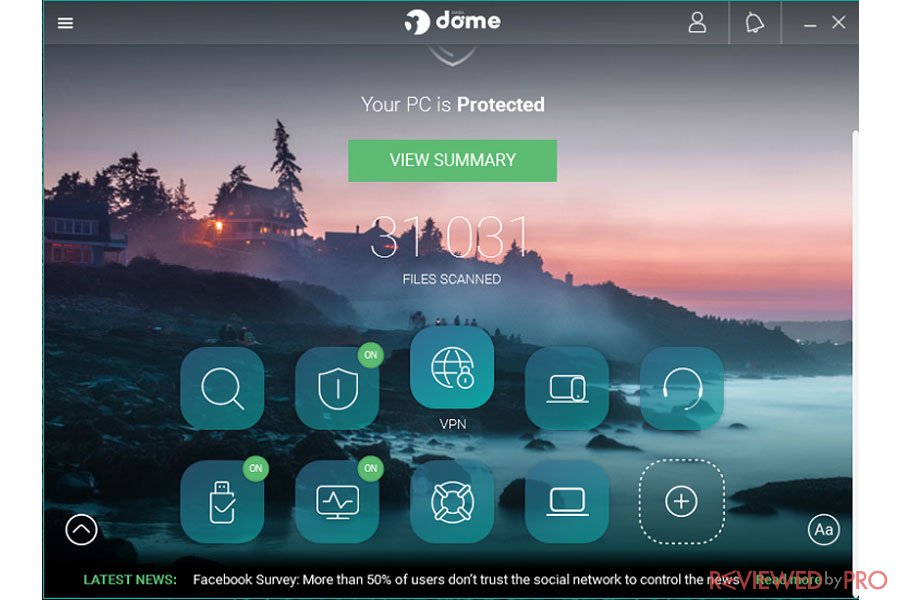 As you can see, Panda Dome has more flexible offerings and plans. However, when it comes to security and privacy features, McAfee Total Protection and McAfee LifeSafe include more security, privacy and performance features.
Antivirus protection
McAfee utilizes multi-layered protection, including a traditional malware-signature engine that looks for suspect code against a database of widespread malicious icons and behavioral monitoring and reputation which detects previously unknown malware. All suspicious icons are uploaded to the company's Threat Center for further investigation. This new technology has replaced the earlier less efficient engine in 2017.
McAfee demonstrates decent antivirus protection rates. It detected all of the malware samples installed on our test computer.
In addition, the company was tested by German-based independent testing lab AV-TEST.[5] According to its latest test conducted in December 2018, McAfee detected 100% of zero-day malware attacks and 100% of widespread and prevalent malware.
When it comes to Panda's antivirus performance, it also uses the same multi-layered protection just like Avast.
However, Panda's results can seem a bit inconsistent. It did not participate in the most recent tests conducted by the independent German-based AV-TEST. In addition, according to the previous tests, the results varied between 99% to 100%.
As you can see, McAfee offers better antivirus protection.
System-performance impact and scans
When it comes to system performance impact, McAfee has a minimal impact on computers' performance. We did not notice any interruptions or slowdowns while using the software in the background. In addition, even during scans, the application did not cause any inconvenience. According to AV-TEST latest tests, the McAfee demonstrated better performance rates than the industry average.
Impact on a system when launching popular websites – 7% (19%).

Impact on a system while downloading frequently-used applications – 0% (1%).

Impact on a system while launching standard software programs – 6% (8%)

Impact on a system while installing frequently-used programs – 29% (25%)

Impact on a system while copying files 1% (3%)
McAfee Total Protection took a relatively small toll on performance during a full active scan. The performance declined only by 14%. However, the first full scan tool more than an hour, and the second just more than 45 minutes.
When it comes to performance results, Panda has never been a winner. It has a notable impact on a system and tends to slow down system's performances.
Panda was tested by AV-TEST that rated the antivirus only 3.5 it of 6 when it came to its performance rates.
Impact while launching popular websites – 30%.

Impact while downloading frequently-used applications – 20%.

Impact while launching standard software applications – 10%.

Impact while installing frequently-used applications – 47%

Impact while copying files – 8%.
Panda also offers various types of scans including Full, Critical and Custom. If you prefer, you can scan any file or folder using right-click and select to scan it. In addition, scans can also be scheduled.
All in one, when it comes to performance, McAfee is a winner again
Customer support
McAfee offers customer support via live chat and phone available 24×7, it also offers users to connect the support on social media, including Twitter, Facebook, and Youtube.
The official support site is very informative and allows looking for information easily. It also offers a virtual assistant for guided solutions, to browse community forums, knowledge base, FAQs and other product-related information.
Panda also has a very convenient support page that includes a huge knowledge base, including FAQs, manuals, tips and other important product-related information categorized according to the product and operating system.
User Interface
McAfee used to have a pretty dark user interface, but in the most recent versions, the interface looks bright and light. Just like Avast, McAfee's main window cannot be resized or run full screen but can be moved around.
All the main features appear in the main window, so it is easy to navigate and understand.
We could also mention that the interface of the app is designed very well and it is extremely user-friendly. The modern design of the McAfee makes you feel comfortable and lets you navigate the functions easily.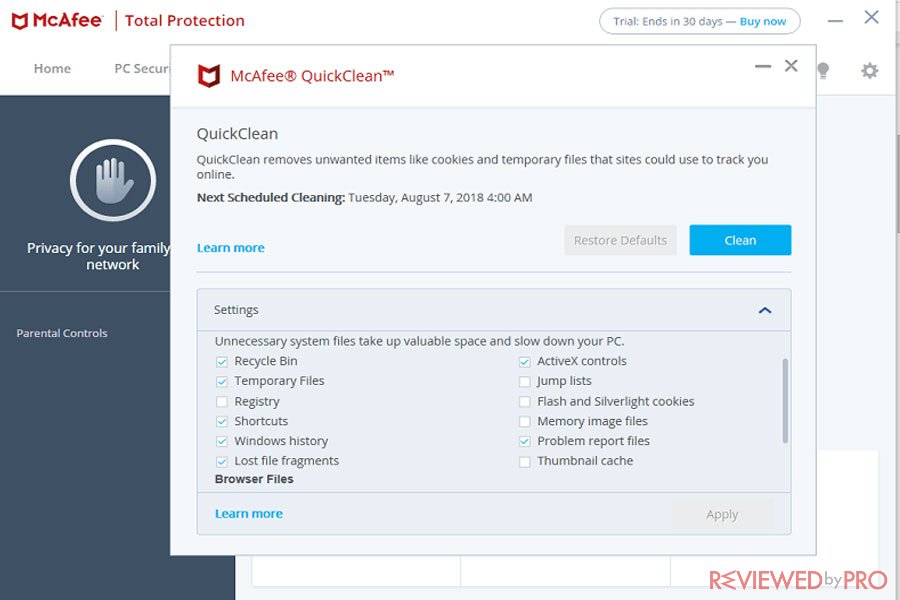 The Panda's user interface is quite good-looking and convenient. After rebranding from Panda Security to Panda Dome, the interface changed but it is still very well-designed and pleasant to use. The main window provides with all the main features and options. It also has the left-side menu bar that mirrors the icons and ads powerful categories, such as Settings.
We tested both antivirus applications, and we can say that Panda still has one of the best client software in a market.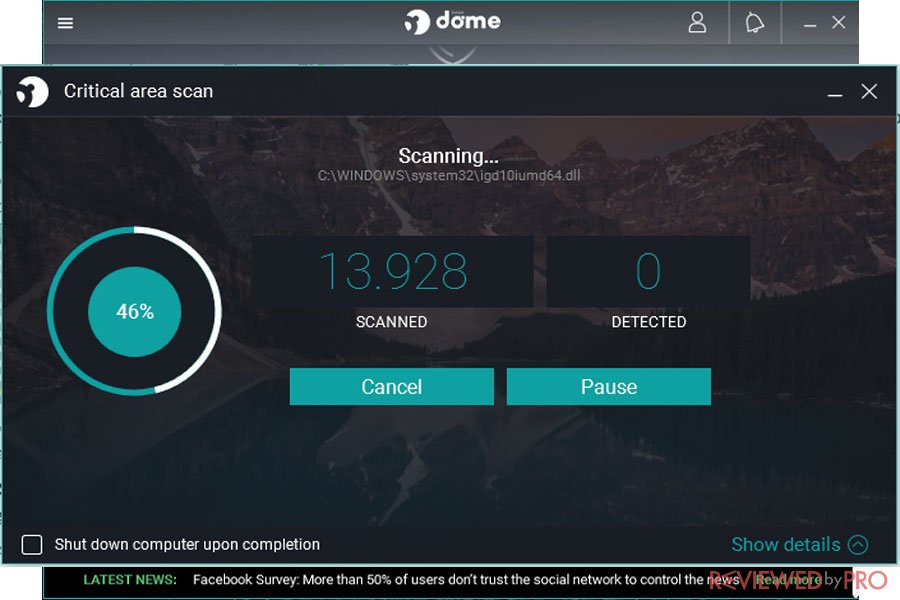 The final verdict
McAfee is user-friendly software with a nice interface and many features. Additionally, it has superior malware detection rates and low impact on system performances.
We recommend this package for households with many devices that want an optimal choice for their safety.
All in all, Panda Dome is a strong program that has an attractive user-friendly interface and some unusual features like the vaccination tool or the rescue kit. In addition, all of the features work fast and the cloud-based processing technology makes it even faster. However according to test results, Panda has a notable impact on a system, and its malware detection rates are just mediocre.
Final thoughts
McAfee and Panda are both well-known and popular brands. Both companies provide reliable and advanced technology, in order to protect users against various cyber threats and other useful security, privacy, and optimization features.
According to the latest test results, we recommend users McAfee, since it provides very decent antivirus protection rates, a full-featured package with a minimal impact on a system at a very reasonable price.
The table below summarizes our test results. As you can see both programs have similar malware detection and removal rates, performance and usability results.
| | | | |
| --- | --- | --- | --- |
| Manufacturer | Detection rate | Performance | Usability |
| | 10 | 10 | 10 |
| | 9 | 8 | 10 |
About the author
References