It is not a secret that few people are fond of Internet advertising. Internet ads can be annoying, so ad blockers have been popular for quite some time now. In addition, Reuters revealed that nearly a quarter of Internet users have at least one ad blocker installed.[1]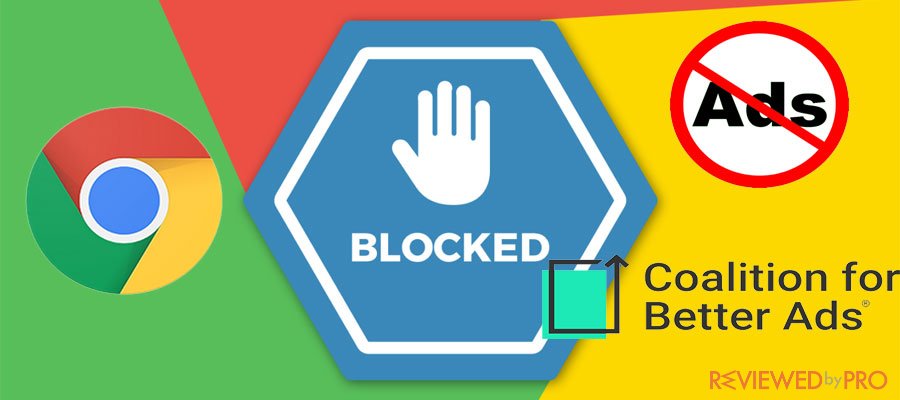 At the present time, ad-blocking technology has gone a step further, as Google Chrome started blocking ads automatically. 
Ad blockers usually are browsers' extensions that aim to hide ads by forbidding ad servers to download their content to those sites that users view. Google Chrome's built-in ad blocker is not a typical ad-blocking extension. Chrome does not block all advertising, for example, if it thinks that you actually want to see an ad for the discount or a solution, it will be displayed. It works on the assumption that not all advertising is equally obtrusive.  According to Kaspersky Lab,[2] that has investigated the new built-in ad blocker, Google blocks only those ads that get in user's eyes too much. 
Google Chrome decides which ads to block based on the Coalition for Better Ads.[3] It is worth to mention that if only one website's ad falls foul of the Coalition for Better Ads standards, Chrome will block all advertising on the resource. The Coalition for Better Ads is an alliance of advertisers, publishers, trade groups, enterprises and work in order to improve ads. The members include Google, Facebook Reuters, Procter & Gamble, Unilever and more. The alliance attempts to reduce bad advertising, and increase the access to clients for those advertisers that play by the rules. Google Vice President Sridhar Ramaswamy noted that one intrusive banner can cause a user to block all ads. Thus, it becomes harder for businesses to reach their target audience. 
So how does the Coalition for Better Ads decide which ads are bad? The Coalition investigated what people find the most annoying about internet advertising, considered ad size, loading time, impact on website operation and other details. According to the results, a set of advertising standards was developed.[4]
The first draft of the ads "least preferred by consumers" are:
Pop-up ads that appear while the page is loading;
Autoplay videos with sounds;
Ads that include a timer and users are unable to close;
Ads fixed at the bottom when user scroll. 
When it comes to mobile advertising, the list slightly differs. It consists of screen-covering ads, pop-ups that force users to wait, or covers over 30% of the screen, and flash-animated ads. Ads fixed at the bottom of the page are not as annoying for mobile users, so these are not prohibited by the standards. 
In order to find the offenders, Google checks sites for compliance with the standards. Website administrators are provided with a green light or a 30-day timeframe to sort ads out. If administrators ignore Google's notifications, that are barred from displaying ads in Chrome. If administrators correct the issues they can request a repeat check. If the check is passed, then ads will be displayed.
However, the final decision on which ads users will see will also depend on users. Even though visitors will be prompted to block ads, they will have an option not to. 
Even though users can see friendly ads, and website owners can make money, the story does not end there. Google protects users from intrusive banners and annoying videos but it also continues to monitor all user online activities. So we would recommend you to take care of your privacy and think about privacy solution, such as VPN service, or Internet Security. 
About the author
References