Windows PCs need strong antivirus systems because Windows is the most targeted operating system in the market. So if users want their computers run efficiently, experience safe online activities and protect their information, the reliable antivirus and Internet security solution is a must. Pain antivirus systems have many features that provide malware protection, manage security on desktops and mobile devices, monitors firewalls, provides parental control features and more. However, some users do not want pay or can not pay for a security package. So this article will provide information about Panda Free Antivirus and Windows built-in antivirus system Microsoft Windows Defender.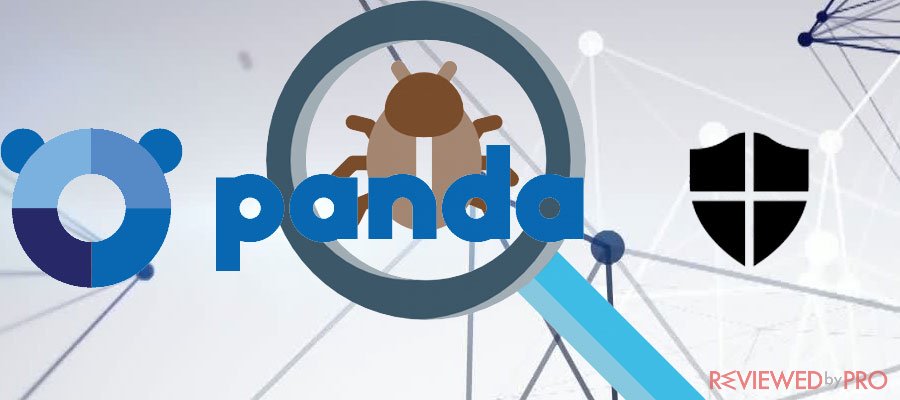 Panda Dome
Panda Free Antivirus was developed by Panda Security, a Spanish-based company that operates the IT security industry since 1990. Panda Security specializes in IT digital software and provides users with advanced cybersecurity product and services with technology for preventing cybercrime.[1]
The first impression of Panda Free Antivirus is many adds and suggestions to upgrade to a paid Panda Antivirus solution and it also tries to change your browser's homepage and search engine. 
Antivirus Protection
Panda offers three antivirus defensive layers, including malware engines that try to match suspect code with digital signatures of already known malware, scans behavior anomalies and upload any suspicious items to the company's cloud servers. 
Panda does not allow users to opt out of this data collection, it also monitors data of computer system. 
The antivirus system can check compressed files and block potentially unwanted programs, however, it does not defend users against ransomware. 
Panda Free Antivirus offers users three scan modes, including Full Scan, Critical Area Scan, and Custom Scan. Users also are able to scan any file or folder they want. In addition, Panda allows users to "vaccinate" their USB drivers in order to prevent them from inadvertently infecting the system. 
When it comes to the efficiency, malware scanner does a decent job detecting and isolating malware. However, the false positive rate is also pretty high. 
All Panda products:
| | | | | |
| --- | --- | --- | --- | --- |
|   | DOME Essiantial | DOME Advanced | Dome Complete | DOME Premium |
| Antivirus protection with Firewall | | | | |
| Mac and Android devices real-time antivirus protection | | | | |
| Free VPN – Limited 150MB/day | | | | |
| Protect your WiFi network from hackers and prying neighbours | | | | |
| Scan external/USB devices and keep them safe from any kind of threats | | | | |
| Parental Control | | | | |
| Identity protection | | | | |
| Ransomware cyberattacks and advanced threats protection | | | | |
| Data Shield – Encrypt your confidential data | | | | |
| Password Manager | | | | |
| Cleanup Tool | | | | |
| Premium Unlimited VPN | | | | |
| Unlimited Premium 24/7 Technical Support | | | | |
| Pricing | $23.99 / 1 device | $31.99 / 1 device | $49.99 / 1 device | $79.99 / 1 device |
| Discount | – 40% off | – 40% off | – 40% off | – 40% off |
| Try for free | | | | |
Security and Privacy
Panda Free Antivirus lacks for some features that other free antivirus systems offer, such as password manager or Wi-Fi network scanner. However, Panda offers users Windows 10 firewall. In addition, it uses Panda's Safe Web reputation system and scans email attachment for phishing attempts. 
Interface
Panda's user interface is dark with white type. The windows cannot be resized only can be moved around. The interface is cannot be customized like it used to be.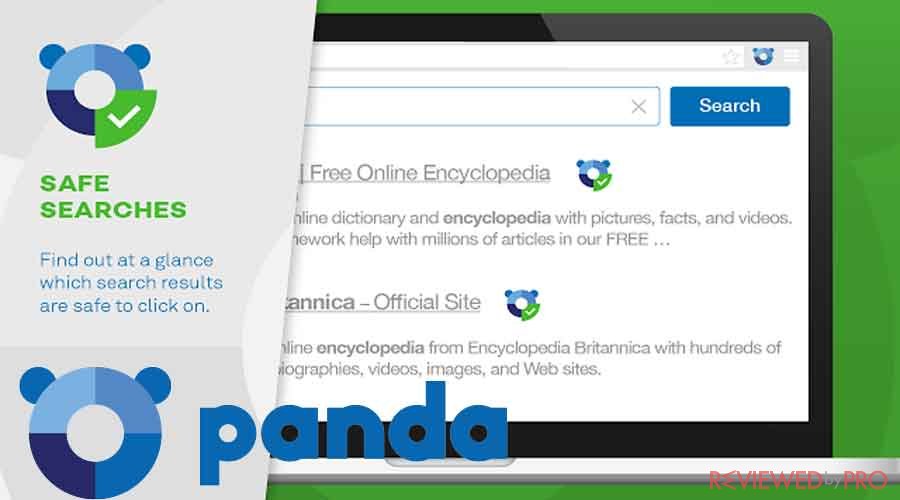 The Final Verdict 
Panda Free Antivirus offers a decent malware protection but far from the best. What is good, it has only moderately impact on a system, pleasant interface and process monitor. However, Panda does not offer security and privacy features, other free antivirus systems do. It also collects user usage data and also displays many ads for upgrades, which can be quite annoying.[2]
| | |
| --- | --- |
| Pros | Cons |
| Moderate impact on system | Malware protection could be better |
| Easy to use and attractive user interface | Aggressive and annoying ads |
| Process monitor | Collects user data |
Windows Defender 
Windows Defender is integrated into Windows 8.1 and Windows 10. Windows Defender was designed in response to an increasing volume of malware targeting Windows operating system.[3]
Windows Defender protects Windows users from malware, scammers, and other cyber threats. Even though the program does not offer many security and privacy features, it is integrated into the operating system.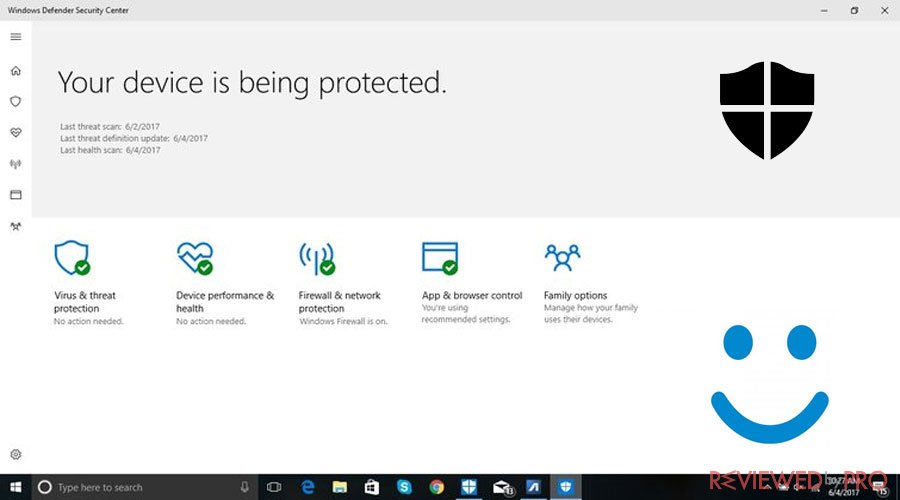 Antivirus Protection
Windows Defender is one of the most widely used antivirus products and many consumers use the program Because it is already built-in, many users do not even know that Windows Defender protects them. The antivirus system also automatically updates itself. 
In order to protect users against malware and other cyber threats, Windows Defender applies traditional signature-matching scanning. It compares suspicious and potential malware against a database of already known malware. Every suspicious icon is sent to Microsoft's labs for further analysis. 
The antivirus system runs in the background, but users are able to put real-time scanner into snooze mode, in order to avoid interruptions. In addition, Windows Defender automatically scans USB drivers, once they are connected to the PC. 
Windows Defender does not offer such as good malware protection as third-party antivirus systems, but it has an ability to spot and scrub rogue code. So the security software now is an effective tool that is able to protect a system. According to German independent lab AV-TEST, Windows Defender detected and stopped 99.0 % unknown zero-day malware. However, its competitors managed to score 100%. 
Security and Privacy 
Windows Defender does not provide security and privacy features that can keep its' users' data safe and secure. The security application provides users with Smart Screen filter in order to block potentially dangerous websites, however, it is compatible only with Internet Explorer and Edge browsers. Windows Defender provides only basic protection and if you want privacy features, you should consider of getting third-party antivirus system.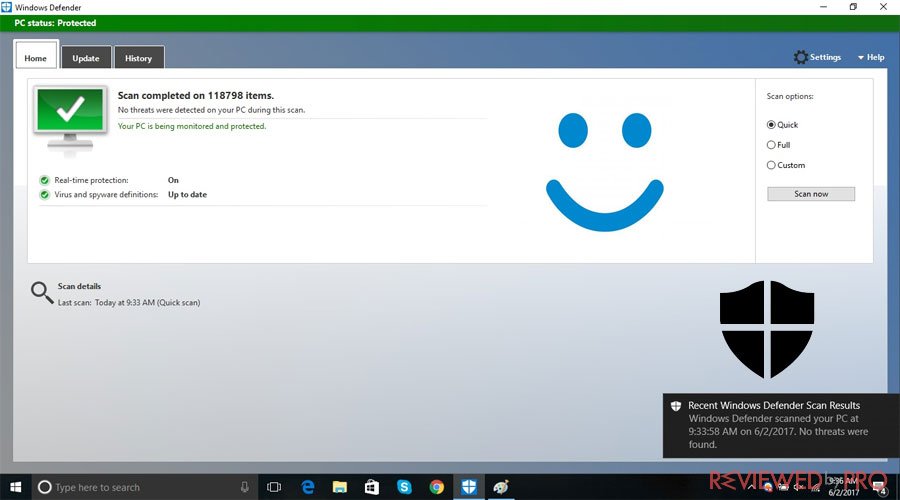 Performance on system 
Windows Defender is a built-in program, o it is hard to test its post-installation system impact. However, Windows Defender has a moderately slow scanner. When it comes to scans impact on the system performance, the full scan slow downed a system by 58%. 
User Interface
Windows Defender has a minimalistic user interface with a white, blue and green color scheme. The interface window can be resized. The user interface is also very easy to operate and users at any time can start a Full, Quick or Custom scan, or check the protection settings.[4]
| | |
| --- | --- |
| Pros | Cons |
| Built-in program | Average malware protection |
| Part of Service Center | Slow scans that slow down PC |
| Easy to use interface | No extra features |
To Summarize
Panda Free Antivirus has moderate system impact and pleasant interface. However, it has only average malware protection and displays annoying upsell ads. 
Meanwhile, Windows Defender is a built-in program and even though it's protection gets better, but it still missed many threats. Scans are slow and offer only basic protection.
So we would say that Windows Defender is better than nothing but third-party antivirus system for PC is still essential, if you want complete protection.In this case, Panda Free Antivirus offers better malware protection rates and more useful features. 
About the author
References