Emsisoft Anti-Malware and WiperSoft are similar programs offering similar features. Emsisoft Anti-malware has more experience in the business and offers users more features. Meanwhile, WiperSoft is relatively young security software but already successfully protects a number of home users and smaller business. If you are choosing between these two security packages, this article will provide you with the basic information and main pros and cons of Emsisoft Anti-malware and WiperSoft security tool.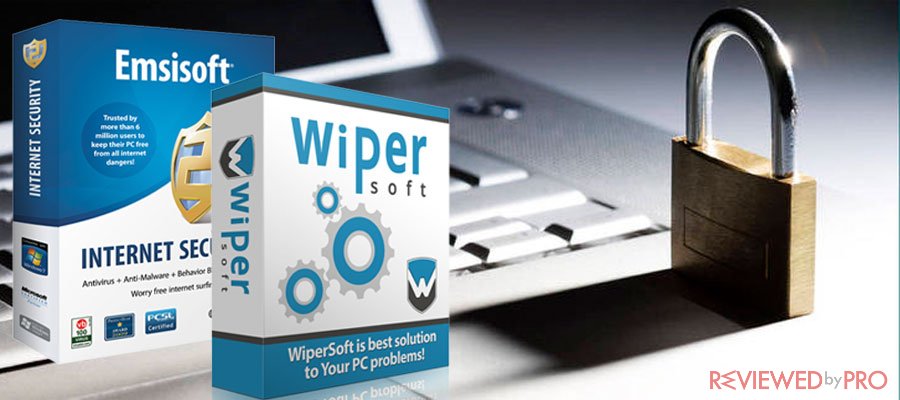 Emsisoft Anti-Malware
To start with Emsisoft,[1] the cybersecurity vendor, launched their first product back in 2003. Since then the New Zealand-based cybersecurity company has successfully operated in the industry. Today Emsisoft provides consumers around the world with reliable and stable cybersecurity products and services for both, businesses and home users. Emsisoft Anti-Malware protects against malware, spyware, viruses, Trojans, potentially unwanted programs and other cyber threats.
Emsisoft users note that the software is unique and powerful. It offers a number of useful features including dual-engine malware scanner, quarantine function and more. In addition, Emsisoft has received a number of awards, including the AV-Test certificate and VB 100 certificate.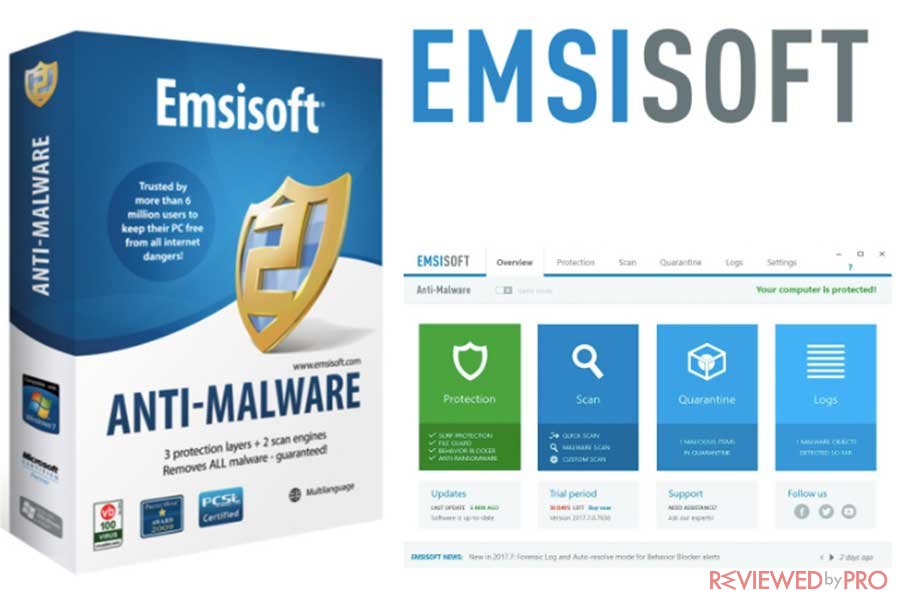 It is worth mentioning that the download and installation of the software are simple and quick.
In order to test the security's reliability, researchers at Reviewed by Pro used Emsisoft on highly infected Windows 10 PC and revealed its' pros and cons.[2]
Pros
Emsisoft is updated every hour, so users always have up to date protection against the latest malware infections and viruses.
The user interface is very simple and easy to use even for those who have limited computer skills.
Emsisoft provides users with various scan modes. The full scan takes about 20 minutes which is lower when the average, while the quick scan requires less than a minute.
It is worth to mention that if you have any problems with the software or dealing with an annoying virus, Emsisoft offers helpful and active customer support. 
Cons
Even though the quick scan is very quick, it is not effective enough. The quick scan did not find any threats on the infected computer.
The application size is relatively big, compared to other similar antivirus and security solutions in the market.
The Final Verdict
Researchers at Reviewed by pro revealed their final verdict of the software. They recommend it for those who need a simple but effective security package with helpful customer support.
Emsisoft Anti-malware offers really great protection for your computer in every situation. The interface is clean, simple and very easy to get used to. There is a very active support team compared to other similar software. Your computer will be protected even from the latest malware, especially if you use the full scan function.
WiperSoft
WiperSoft[3] was developed by WiperSoft LLC in 2015 and it is relatively young compared to other applications in the market. WiperSoft delivers advanced malware detection and removal features that also are easy to manage. WiperSoft provides users with a fast solution to all PC issues and cyber threats that can possibly pose. The software can easily scan the system and detect malicious software and potentially unwanted applications, including browser hijackers, adware, toolbars and other annoying programs. The security tool is simple and effective Windows software that offers a number of features.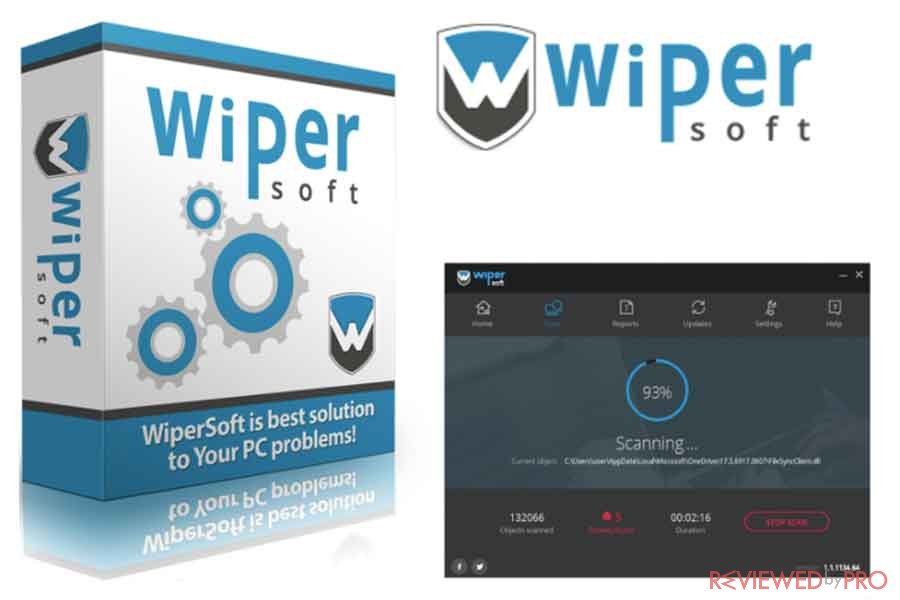 Users can get free and paid versions of the WiperSoft security solution. The free version provides users with privacy protection features, can detect spyware and also scans your computer for free. The paid WiperSoft version provides spyware, adware and other computer infections removal, free HelpDesk services that include free customer support and free custom fix feature for particular threats together with 6 months' subscription.
The download and installation of WiperSoft are simple and easy. It will only take a few moments and the software will be installed and ready to scan your system. WiperSoftw supports Windows XP and later versions. Once the WiperSoft is installed, the automatic scan starts to perform. However, users are unable to skip this scan, so it is kind of negative side for those who only want to check out the software.
Researchers at Reviewed by Pro used the software for about a month. The computer they tried the software with was Windows 10 with 8 GB of RAM and HDD. The first impression of the software was good: it did not slow down the system. Researchers also revealed other pros and cons of WiperSoft.[4]
Pros
Researchers at Reviewed by Pro noted that the software is very quick. In fact, the full scan can be completed in about six to eight minutes, which is ultra fast, compared to other products average which is about 30 minutes.
WiperSoft works quietly in the background and does not drown the system.
WiperSoft detects even the smallest threats that can be removed with a single click.
The user-interface is simple and easy to use.
Cons
Even though the smaller threats are successfully detected by WiperSoft, the software does not manage to find bigger infected files.
The software does not have many features to offer, the full scan is the only available option.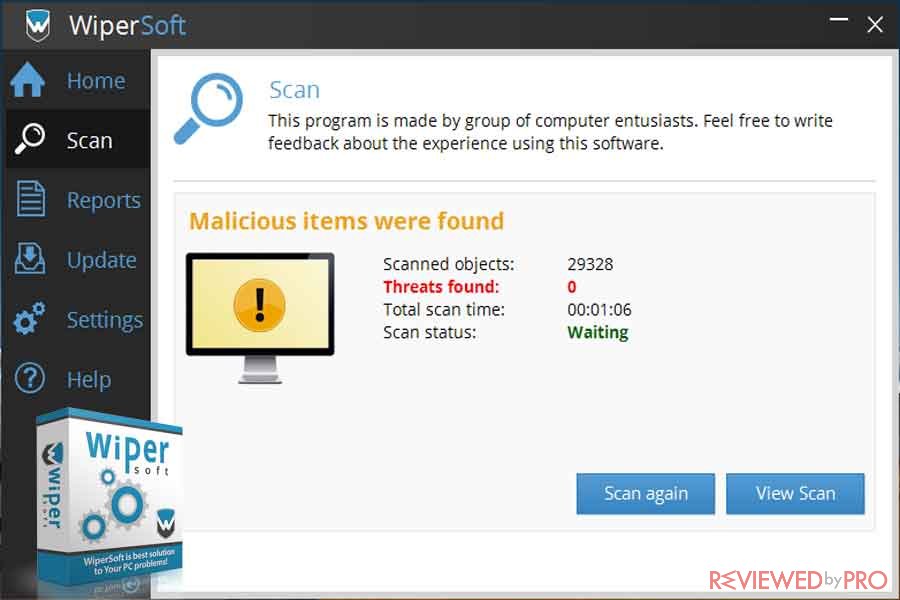 The Final Verdict
The Final Verdict was delivered by researchers at Reviewed by Pro after a 30-day WiperSoft test. Even though the antivirus solution is very simple and fast, it can leave some major threats undetected.
Although WiperSoft is very simple and fast antispyware software, it left us with many disappointments because it is not effective against bigger threats and is quite expensive. WiperSoft antispyware would not be capable of protecting bigger businesses or heavy users of the Internet, but it could be great for casual everyday Internet users.
To Summarize
Researchers at Reviewed by Pro recommends Emsisoft Anti-malware for those who need basic and inexpensive protection for the PC. It also provides users with various useful features, including a dual-engine malware scanner and more. Emsisoft Anti-malware has an easy to operate user interface, quick performance with good detection and removal rates.
WiperSoft is also fast and easy to use. In fact, it works faster than Emsisoft. However, WiperSoft is not capable of fighting bigger infections in the system and will not protect bigger businesses or heavy users of the Internet.
About the author
References