Google has updated the official Google Play app store policy and banned cryptocurrency mining applications from the official app store.
The banned apps are used to mine cryptocurrencies on Android devices in the background.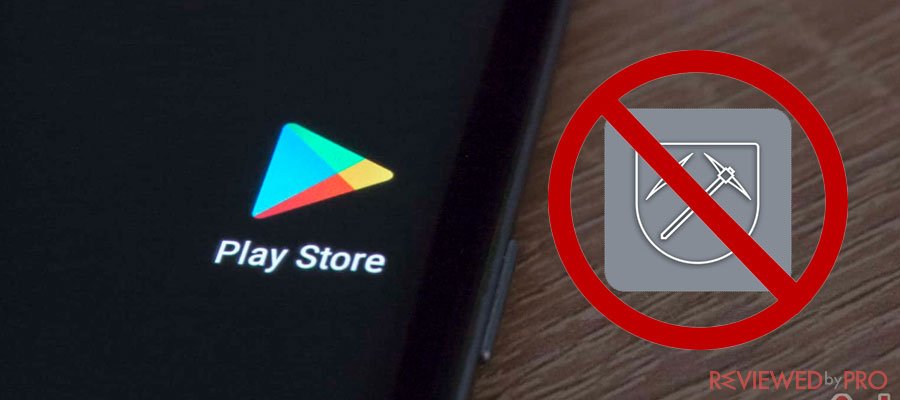 It is worth mentioning that a number of cryptocurrency mining Android applications, such as MineGate, Crypto Miner, and others can still be found on the official Google Play app store.
Even though mining cryptocurrency is not a new trend, hackers have abused the technology and made millions illegally, just by hijacking devices to mine cryptocurrency in the background without users' permission or knowledge.
Google follows Apple's lead in banning digital currency mining apps
Because of this, cryptocurrency mining by hijacking users' devices without their knowledge and permission has emerged as a threat.  Apple and Google have put restrictions on such apps. Apple banned cryptocurrency mining apps on iPhone and iPad earlier this year by updating its App Store guidelines.[1] Meanwhile, Google has also recently updated the Google Play Store Developer Policy and banned a few categories of apps, that include apps that use a device's CPU for cryptocurrency mining.
It is worth to mention, that those apps which remotely manage the cryptocurrency mining are not included.[2]
We don't allow apps that mine cryptocurrency on devices. We permit apps that remotely manage the mining of cryptocurrency.
Additionally, Google has also introduced the following updates:
Google has clarified  

Child Endangerment

policy to emphasize the prohibition of adult themes in apps that appeal to children. 
Google has introduced a new policy that prohibits any sale of

Dangerous Products

, including firearms, explosives, etc. 
Google's 

Violence

policy has also been updated accordingly. 
Google has introduced a new policy on

Cryptocurrency

mining in their Financial Instruments section. 
Google has clarified Spam policies to explicitly prohibit

repetitive content

on our platform.
Google also does not allow apps whose primary purpose is to serve ads. 
Google has introduced a new policy on

misrepresentation

in their Privacy, Security, and Deception policy section.
Google has also banned cryptocurrency mining extensions from Google Chrome Web Store in order to protect users from malicious crypto jacking that mine cryptocurrencies without users' permission or knowledge.
Facebook and Twitter ban cryptocurrency-related ads
Facebook has also banned ads that promote cryptocurrencies, such as Bitcoin and initial coin offerings also known as ICOs.[3] Moreover, Twitter also introduced the plan to block all the ads related to digital currency.[4]
About the author
References