In order to successfully run a business, users should not forget that security should come first. That is why the leading security software provider, AVG, developed antivirus software designed for businesses. AVG AntiVirus helps businesses to protect their endpoints against all types of malware, ransomware, hackers and much more.[1]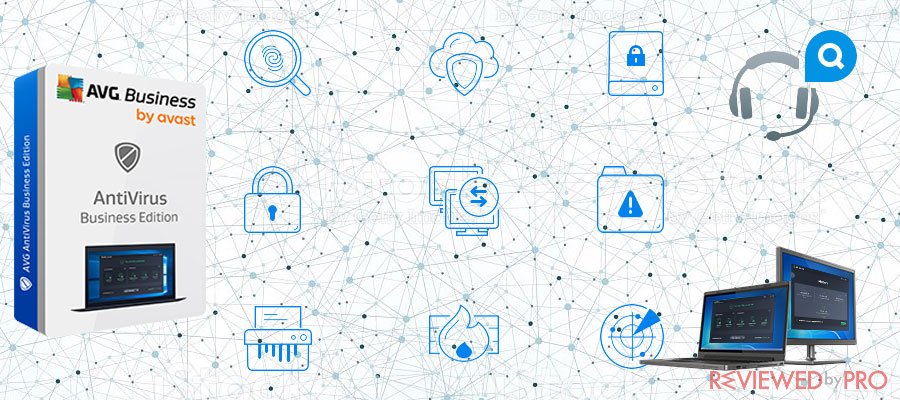 AVG Small Business AntiVirus from AVG provides users with the following benefits 
Quick to install
24/7 protection
Free email and phone support
What does AVG AntiVirus Business Edition
Safe Identity, data, transactions
AVG Anti-Spyware feature protects users' identity from spyware and adware that track personal data and sensitive information. 
AVG AntiVirus Business Edition encrypts and stores valuable company documents and sensitive information, or any other files, onto a password-protected virtual disk on users' PC. 
AVG Windows file server keeps the file server safe, private and protects it against hackers and cybercriminals.
AVG File Shredder removes and deletes files in order to prevent unintended recovery. 
Safe network in real-time
AVG AntiVirus Business Edition Linkscanner Surf-Shield checks websites before they are accessed in the browser and displays a safety rating in the search engine results box. This way you and your employees can surf the web with confidence. 
AVG AntiVirus Business Edition features a network antivirus which provides better protection against even the latest malware. The Network antivirus applies cloud-based real-time outbreak detection and proactive AI detection. 
AVG AntiVirus Business Edition features a firewall which protects IT Infrastructure against online security threats, including spam, viruses, hackers and various types of malware.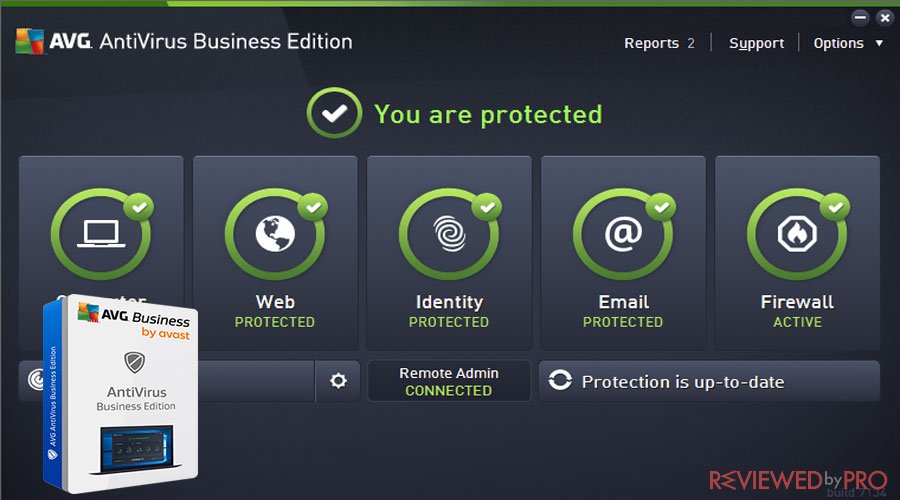 Protected hardware 
AVG AntiVirus Business Edition provides users with multi-stage ransomware analysis that combines static and behavioral tests, sandboxing, and other techniques. This way businesses are protected against cybercriminals and online threats. 
AVG Antivirus Business Edition scans PCs when you or your employees are not working, so it does not get in the way and do not disturb any work processes. By using AVG AntiVirus Business Edition you and your employers can focus on business and work without any distractions or delays. 
Remote control
Remote management feature allows your administrator to remotely install, update, and configure AVG across all your PC devices and IT infrastructure from a single location.
Protect your Business with AVG
Safe surfing and malware protection
Data and privacy protection
Automatically updates
Remote management
Free phone support
Windows 10 compatible 
World-class protection
AVG provides users with world-class protection. In the last two years, the software provided has received more than 25 awards, including awards and certificates from firms like AV-Test IT Europa, CDM, CRN, and others.
Reviews
AVG AntiVirus Business Edition also receives great feedback and it is well rated by customers and software experts.
"In short, this is one of the sleekest and easiest to use professional security suites we have seen, which is probably a good idea considering that it's likely to be deployed to staff members with little or no IT expertise. It's also pleasantly unintrusive."
No Risk
AVG offers users to download the AVG AntiVirus Business Edition free trial, to try and see whether it fits your requirements and needs. 
In addition, if you want to buy AVG AntiVirus Business Edition right away, you do not have to take any risk. AVG offers users money-back guarantee, so if you are not satisfied with the business antivirus in the first 30 days, AVG will refund your money.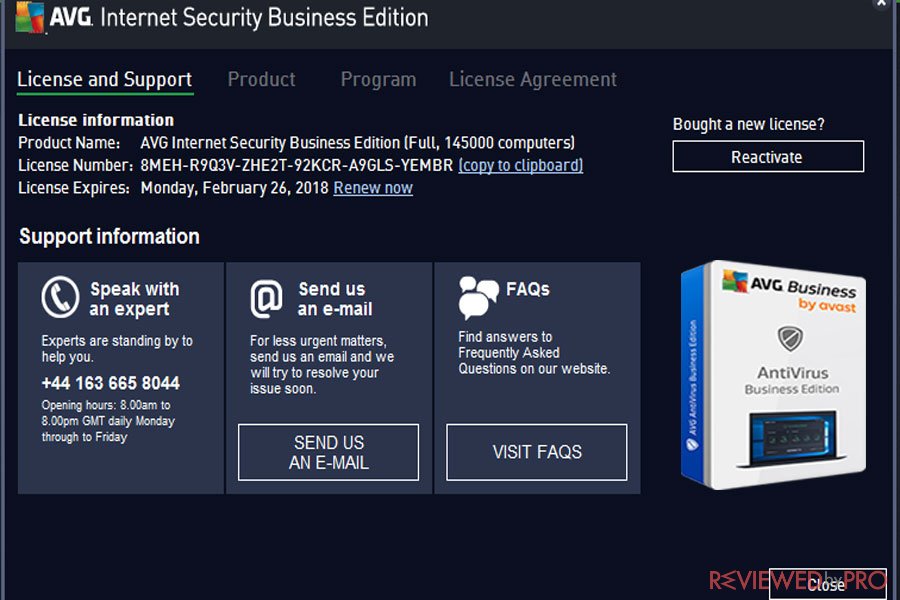 System Requirements
AVG AntiVirus Business Edition is compatible with Microsoft Windows 10 (32 and 64-bit), Windows 8.1 32 and 64-bit, Windows 8 32 and 64-bit, Windows XP, Windows Vista, Windows 7, Windows Server 2003, Windows Server 2008, Windows SBS 2011 Standard, Windows Server 2012, Windows Server 2016. 
CPU Processor 1.8 GHz, 1 GB of RAM, HDD 1600 MB.
CPU Processor 1.5 GHz, 512 MB of RAM, HDD 1300 MB. 
AVG AntiVirus Business Edition is compatible with Microsoft SharePoint Services 2.0/3.0 and SharePoint Server 2003/2007. 
AVG AntiVirus Business Edition supports Microsoft Internet Explorer, Mozilla Firefox, and Google Chrome. 
AVG AntiVirus supports languages including English, Czech, Slovak, German, French, Spanish, Portuguese, Polish, Serbian, Dutch, Danish, Italian, Japanese, Hungarian, Malay, Italian, Japanese, Russian, Chinese, Turkish, Korean, Indonesian, Indian. 
Other Security, Privacy, and Optimization for Businesses from AVG
AVG also offers businesses other security products, including AVG Internet Security Business Edition, AVG File Server Business Edition, and AVG PC TuneUp Business Edition. 
AVG Business Support
AVG provides businesses with helpful and useful technical support for businesses. 
Contact AVG for business support
AVG experts at the support center are standing by to provide a solution for security or software-related issue in order to get your business back on track. 
Business Refund Request
If you want to submit a request for a refund you can do it at AVG online support center. 
Download and Install AVG Business Edition
If you want to install AVG Business Edition it is necessary to install AVG Remote Administration together with its components. Users need to use the AVG Admin installation package in order to install these components. In addition, the configuration of AVG Remote Administration it is necessary to go through the AVG Admin Deployment Wizard once the AVG Business Edition is installed. 
It is worth to mention that AVG can be installed on stations or servers remotely. Even though it can be installed in several ways, users are recommended to use one of AVG Remote Administration components – AVG  Network Installer Wizard. 
Users are able to download and install AVG on their servers and clients without applying the AVG Remote Administration. This would work for smaller networks, where users are able to manage each device individually. 
Users have to visit the download page for their AVG Business Edition product. Then download the installation file and operating system version. Finally, launch the downloaded file, enter a product key and finish the installation. 
About the author
References