Avast Business Antivirus[1] provides businesses with essential endpoint protection.
Avast Software[2] is one of the most popular multinational cybersecurity software company protecting more than 435 million users in the world. Avast is headquartered in Prague, Czech Republic and has 25 offices worldwide. The company was founded in 1988.[3]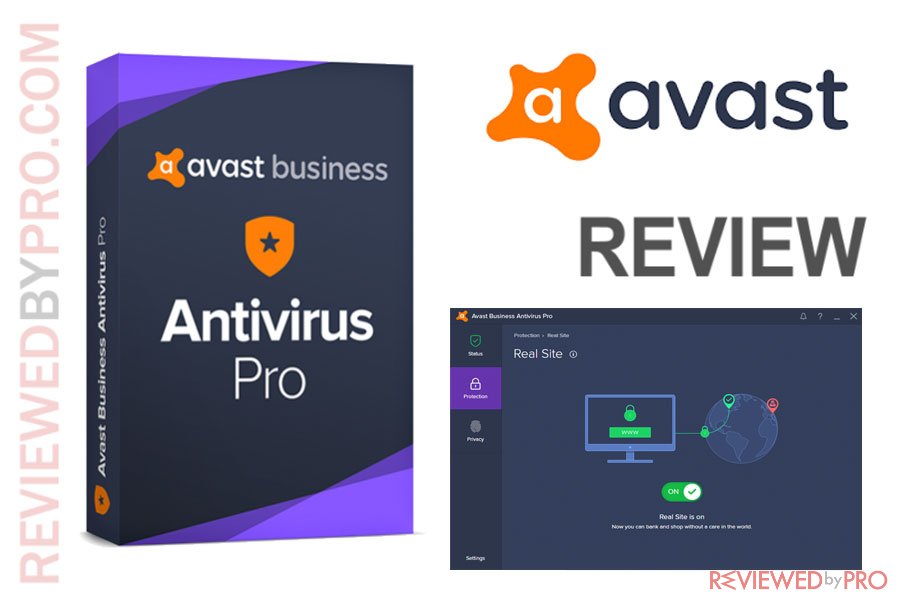 Avast constantly develops their products by using next-gen technologies such as artificial intelligence-based processes.
Avast develops a variety of products for business users and consumers, including free and paid antivirus and Internet security solutions (Avast Antivirus for Windows, Avast Security for Mac, Avast Mobile Security and Antivirus for Android), performance tools (Avast CleanUp) and privacy (Avast SecureLine VPN) applications across all the major operating systems and IoT devices.
Avast Business Antivirus is developed for small businesses and protects PCs, Macs, and Windows Servers.
The power of 400 million endpoints combined with unique detection algorithms and a comprehensive feature set allows Avast Business Antivirus to detect and block threats faster and more reliably than any other software.
Users can choose from Stand-alone antivirus application which is a great choice for four or fewer devices. Using the stand-alone antivirus service users are able to adjust device settings and receive a complete control over the data.
For five or more devices, Avast recommends Antivirus connected to cloud management console, which is accessible from anywhere with any device. It also allows generating in-depth reports, fuss-free setup, and maintenance.
Avast provides users with three packages of Avast Business Antivirus including:
Avast Business Antivirus starts at $39.99 per one device for a year.

Avast Business Antivirus Pro starts at $49.99 per one device for a year.

Avast Business Antivirus Pro Plus starts at $59.99 per one device for a year.
All of the packages include a 30-day money back guarantee for those who are not satisfied with the product. In addition, users can get a free 30-day trial and try the app before purchasing it. The company does not require any information about your company, location and a phone number, if you want to try the product, all you have to provide is your name and email address.
Test results
It is very convenient that all Avast packages can be installed and controlled from the individual endpoint and managed remotely from a cloud console. The installation is very simple and the setup is very simple. We have managed to download, run and work through the wizard in about a minute. The configuration took a bit longer since Avast gives users a complete control over which features to install and which to leave out.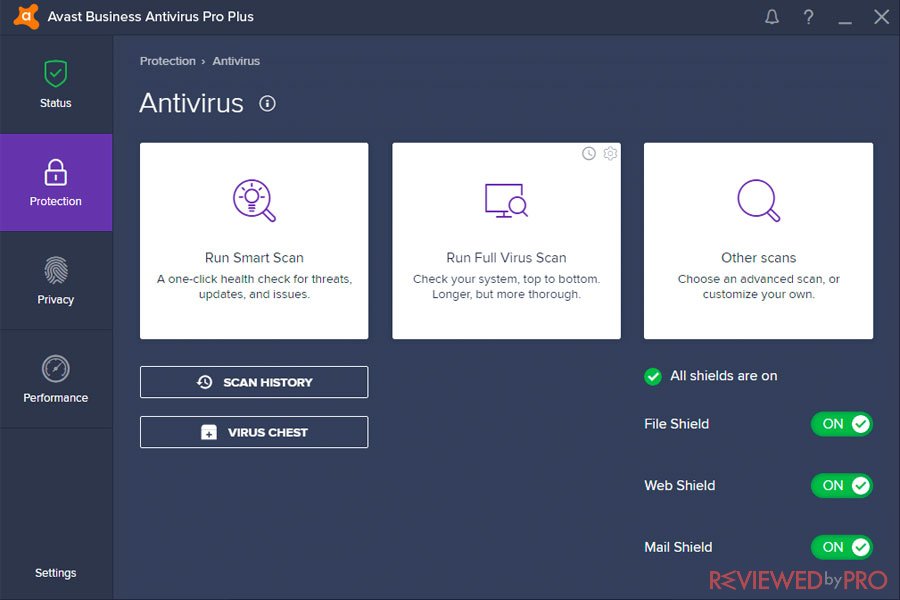 Antivirus protection
Avast is one of the best-known names in the security industry, so no surprise that it demonstrates excellent antivirus and malware detection rates. The program scans files and programs before allowing them to open or run. In addition, it applies Behavior Shield function to block dangerous applications on the device. If anything suspicious is detected, Avast sends all the files to the Threat Lab for further analysis.
However, Avast Business Antivirus was tested by the independent testing lab AV-TEST in its' recent tests conducted in July/August 2018. Even though in August test, Avast Business Antivirus has detected 100% of both zero-day and widespread malware, in a test conducted in July Avast Business Antivirus demonstrated lower than the average and missed some threats.[4]
The company also aims to protect users against dangerous websites, emails, and email attachments, spam and phishing emails.
Features
Avast Business Antivirus adds a variety of features to its applications. Even its' cheapest tier Avast Business Antivirus includes a decent set of features:
Antivirus scans every file and program before launching it.
CyberCapture sends all detected suspicious files to the cloud-based Threat Lab for further investigation.
Firewall filters network traffic.
Behavior Shield detects and blocks malicious apps and programs.
Web Shield detects and blocks dangerous websites.
Email Shield checks for threats in incoming and outgoing emails.
Anti-spam detects and blocks unwanted spam and phishing emails.
Smart Scan checks the system for any security and performance issues.
Sandbox provide a safe environment to test dubious files.
Wi-Fi Inspector checks the network for any vulnerabilities and security issues.
Real Site protects against websites that aim to steal user data.
Rescue Disk creates an external backup antivirus.
Avast Business Antivirus Pro adds additional features:
Software Defender that automatically updates software.
Data Shredder permanently removes files users do not want to recover.
Avast Business Pro Plus, in addition to the mentioned features also adds:
Browser Cleanup that removes junk files from the browser.
Webcam Shield alerts users before the webcam is turned on.
Passwords feature that protects user passwords and streamlines online accounts.
Performance
Avast Business Antivirus is a very lightweight program. Avast performs lightning-fast analyses of unknown files in the Cloud, for a lightweight solution that won't slow down your employees or your business. However, when it comes to the test results, Avast Business Antivirus demonstrates a bit lower than the average rates.
The application has the largest impact while launching popular websites – 22% while the industry average is 18%. In addition, it slowed down the launch of standard software applications by 14%, while the average is only 11%. It is worth to mention that it demonstrates better results in copying files – only 2%.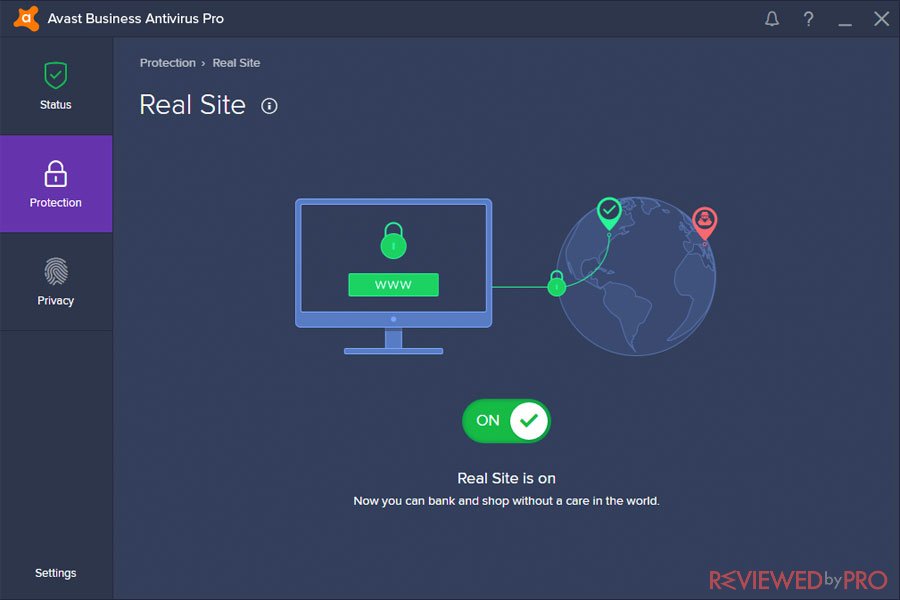 Usability
Avast also have a minimum impact of the security software on the usability of the whole computer, as it delivered two false detections of legitimate software as malware during a system scan.
User interface
Avast Business Antivirus as a very similar interface as its products for home users. The main screen displays the current device's health status. Users can run a multi-purpose Smart-Scan with a single click. The left side menu bar opens panels where other features can be accesses – protection and privacy.
| | |
| --- | --- |
| Feature | Score |
| Antivirus protection | Decent virus and malware detection rates |
| Performance | Mediocre impact on a system while working in the background |
| Usability | Delivered 2 false positives  |
The final verdict
Avast Business Antivirus offers business users reliable protection against various cyber threats. It also has a very decent security and privacy feature set at a very reasonable price. However, it can miss some threats as the antivirus detection rates is a bit lower than the average. 
Other Avast products
Avast for Windows:
Avast for Mac:
Avast for Linux:
Avast for Android
Avast also offers a 30-day money back guarantee.
 Note that small businesses are appealing to hackers because they usually have a moderate amount of sensitive data with minimal security. If you are looking for the best security and antivirus suites for small businesses, make sure to check out the best small business antivirus software of 2018, and chose the application that suitable for you!
About the author
References