Virtual Private Networks or VPNs[1] become more and more popular these days due to increasing privacy concerns. VPNs provide Internet users with more safety and anonymity online, as they create a secure encrypted tunnel between the device and the Internet.
However, it can be difficult to choose a VPN service, as there are many tools to choose from.
If you have finally decided to get a VPN service, check out Privacy section for more information!
Our researchers at Reviewed by Pro constantly test and reviewed VPN services to provide users with the most accurate and up-to-date information.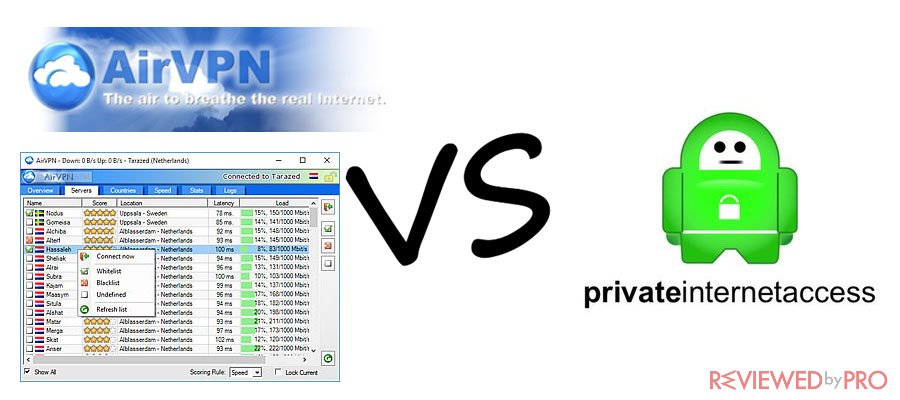 AirVPN Or PIA
For those, who do not have time to read the full article, check the table below to find which VPN wins in the following categories.
| | |
| --- | --- |
| Feature | Winner |
| Pricing | AirVPN offers more flexible & low-cost plans. |
| Protection | Both VPN providers offer military-grade encryption and strong protection. However, PIA supports more encryption protocols and provides better security features. |
| Features | PIA offers a wider range of features. |
| Performance | PIA offers decent speeds and connectivity. |
| User Interface | PIA has a simpler and more pleasant user interface. |
AirVPN Overview
AirVPN[2] initially started as free-to-use service in April 2010 in order to raise awareness. The VPN service is based on OpenVPN and operated by activists in defense of privacy and against censorship/
AirVPN is a relatively small VPN provider and does not cover wide geographical reaches as industry giants such as NordVPN, CyberGhost, PIA or Hotspot Shield. When these companies offer thousands of servers, AirVPN has only 219 servers in 20 countries across the globe.
PROS

CONS

VERDICT

Strong protection and encryption

Small geographical reaches

Even though it is not as widely known as the market giants, AirVPN does a pretty good job at protecting its users and creating a secure environment to browse in.

Thorough and honest logging policy

Questionable Customer support

Unlimited torrenting

 
AirVPN is one of the more basic VPN providers based on open-source software, but it offers all the features a user needs.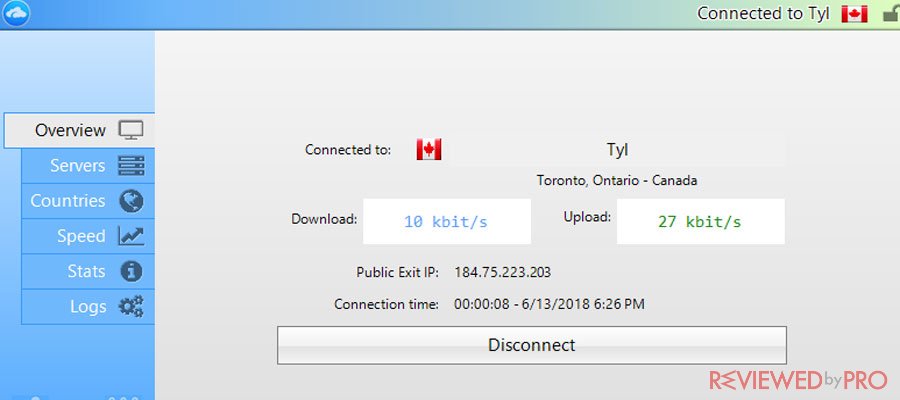 PIA Overview
PIA or Private Internet Access[3] is a leading VPN provider based developed by US-based London Trust Media, Inc which also owns brands such as IRC, Linux Journal, ClockExplorer, and many others.
Private Internet Access® VPN Service encrypts your connection and provides you with an anonymous IP to protect your privacy.
PROS

CONS

VERDICT

Great performance

U.S.-based

An inexpensive VPN with a lot of features and a high protection level

Thousands of server locations worldwide

Randomly assigns the username

Highly customizable

Occasionally needs to be reloaded
The service is compatible with Windows, macOS, Android, iOS, Linux, it has extensions for Chrome, Firefox, Opera and allows 3rd-party connections for all of these and routers.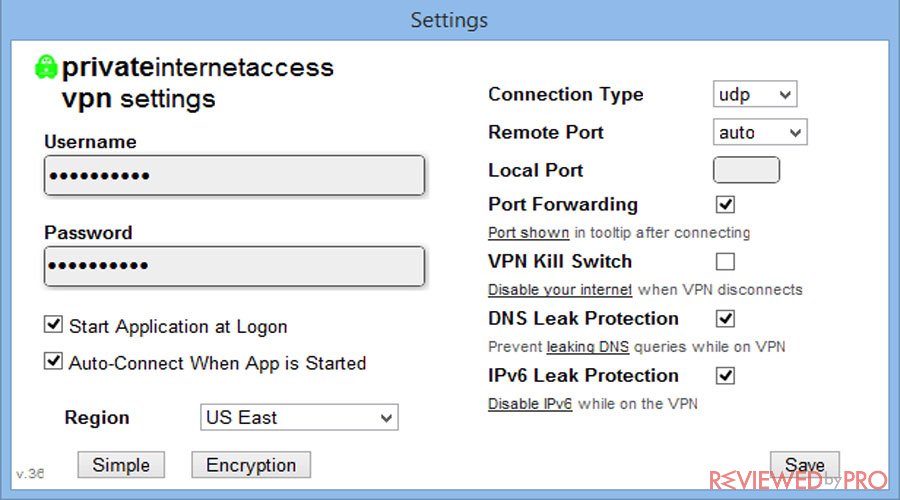 Pricing
AirVPN provides users with various plans, such as a 3-day plan. Discounts and offers are often available. In addition, users can get a free trial.[4]
Users can pay using various methods, including Credit Card, PayPal, gift vouchers, Bitcoin and other cryptocurrencies. Users also can get a free trial by submitting the contact form available at the official AirVPN website.
Private Internet Access is one of the cheapest VPN services we tested. Users can choose from various subscriptions that cover up to 5 devices.[5]
Users can pay using various payment methods including Credit Card, Paypal, Amazon Pay, WebMoney, Zcash, Bitcoin Cash, Bitcoin, Bitpay, ethereum, Litecoin, Mint, and others.
As you can see both providers offer various payment methods and similar prices for long-term subscriptions, however, AirVPN offers more flexible plans, as it includes a free trial and various plans from a three-day to 2-year plan.
Privacy
AirVPN is based in Rome, Italy and follows the European Union's General Data Protection Regulations. Italy is a part of the Fourteen Eyes international surveillance alliance that collect and share mass surveillance data.
AirVPN claims not to keep any logs, that decrease its' jurisdiction concerns.
When it comes to Private Internet Access, the VPN service is based in the USA, which is even less privacy-friendly country. It is worth to mention that PIA also does not keep any user data or records.
To sum up, both VPN services are located in non-privacy-friendly jurisdictions, but they both do not keep any user data and logs.
Protection
When it comes protection and encryption, AirVPN supports OpenVPN protocol which is the most secure protocol in the market now. The developers of the VPN service state that PPTP and L2TP are too insecure, so they chose the best option and does not include these protocols.
However, it supports SSL and SSH tunneling in countries, in which OpenVPN is not supported.
AirVPN also uses DNS Leak Protection, which adds an additional layer between the Internet and encrypted data.
Another aspect worth mentioning is that this Virtual Private Network offers VPN through Tor. This really raises the level of privacy, as Tor itself is a free piece of software designed to protect users' anonymity on the Web.
AirVPN offers only 223 servers located in 20 countries.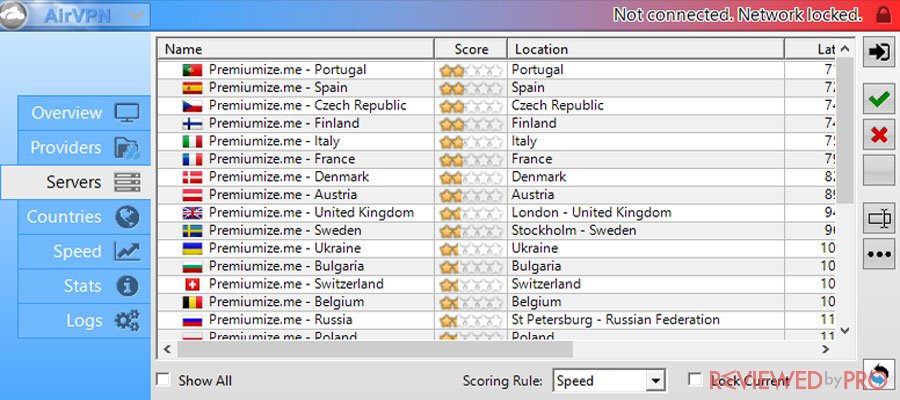 When it comes to PIA's encryption, by default it uses 128-bit AES encryption but it can be easily adjusted to 256-bit AES encryption. Authentication also can be protected either SHA-1 or SH256. Users also can choose the public-key encryption, which can be set up with RSA-2048 or increased to RSA-4096. PIA supports popular OpenVPN, L2TP/IPsec, and PPTP protocols.
For even better protections, PIA offers a Kill Switch feature that allows the program to close all the applications that require Internet access, in case the VPN service accidentally disconnects.
PIA also has a high number of servers that includes 3083+ servers in 33 countries. The company claims that the number is growing constantly.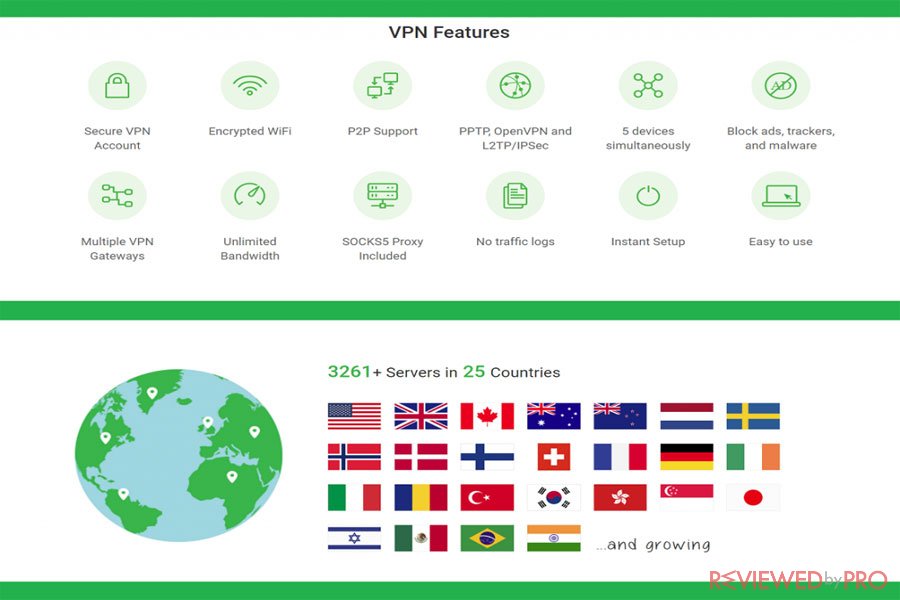 To sum up, PIA supports more protocols, provide better security features, as well as offers a massive number of servers and geographical coverage.
Features
AirVPN aims to provide users with protection against snoopers, data miners, and privacy intrusive entities and offers users following features. According to the provider, AirVPN offers Network Lock, which covers ALL the limited purposes of a kill switch, plus tons of cases for which a kill switch does not prevent leaks. Only our Network Lock is the proper way to prevent traffic leaks.
Hide user IP address

Strict monitoring and logging policy of user online activities

Diffie-Hellman key exchange. Re-keying is performed every 60 minutes

Additional connection types supported by every AirVPN server.

Internal VPN DNS based on root servers

anti-ICE/ICANN censorship

Port Forwarding / DDNS

No traffic, time, speed or servers switch limits.

Network Lock
PIA is also a full-featured VPN service and offers a useful feature set:
Secure VPN Account

Encrypted Wi-Fi

P2P Support

PIA MACE – PIA'S Ad Blocker (blocks Ads, Trackers, and Malware) 

Leak Protection

Multiple VPN Gateways

Unlimited Bandwidth

SOCKS5 Proxy

No traffic Logs

Instant Setup

Kill Switch
Both VPN services provide a basic feature set, however, PIA offers some more useful and advanced features such as ad, tracker and malware blocker.
Performance
Every VPN will slow down your connection. That's why it is important to find the service, which provides you with reliable performance rates.
AirVPN demonstrates decent performance rates and stable connections, however, not as good as PIA.
When it comes to Private Internet Access demonstrates, it has great performance rates and fast connection, uploads, and latency. It is worth mentioning that PIA has always offered pretty good performance, and feedback from other users as well.
User interface
AirVPN allows a lot of options to configure. The user interface might be confusing if you are a beginner with VPNs, and this can discourage some not-so-technical users. After buying the subscription, you have to configure your application and there are simply too many options to choose from.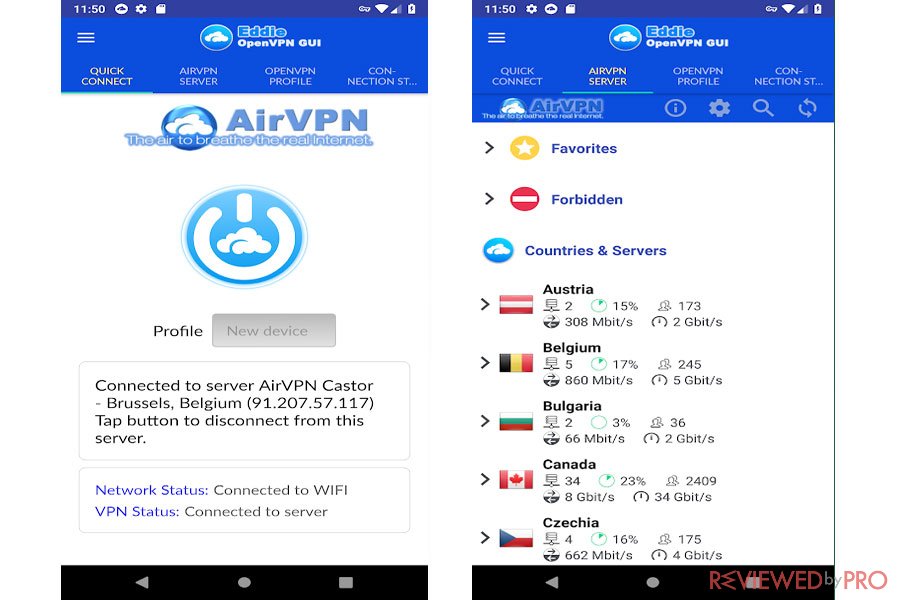 Even though the user interface of Private Internet Access VPN is a bit dull and not eye-pleasing, it does not suffer from over-complexity and is rather simple to use by beginners and advanced users alike.
The final verdict
To sum up, even though it is not as widely known as the market giants, AirVPN does a pretty good job at protecting its users and creating a secure environment to browse in. However, you should keep in mind that there are some technical details when setting it up, so it would be recommended to read on it before the installation. If you are a total beginner, you can also consider trying ZenMate and VyprVPN.
One of the best things about this service is that you can try it for as low as 1 euro for 3 days, so you can buy this subscription right away and check it out for yourself.
Supported platforms: Windows, macOS, Android, iOS, Linux, ChromeOS.
Allows the 3rd-party connection: Yes, for Above and DD-WRT, Tomato, AsusWRT routers, pfSense, TOR, SSH Tunnel and SSL Tunnel.
Simultaneous connections: Up to 5 devices.
User data required: real name, email address.
Supported protocols: all protocols allowed. The company claims to have 4 entry-IPv4 addresses and 4 entry-IPv6 addresses that support different ports and protocols.
Private Internet Access VPN offers a high level of safety, unlimited bandwidth, and strong protections. PIA is a decent choice for those who want to browse safely and privately. It also allows a very high level of customization for a very affordable price.
Supported platforms: Windows, macOS, Android, iOS, Linux, Chrome, Firefox, Opera.
Allow 3rd-party connections: Yes, for above and routers.
Simultaneous connections: Up to 5 devices
User data required: valid email address
Supported protocols: OpenVPN, L2TP/IPsec, PPTP
To conclude
AirVPN offers military-grade encryption, decent protection and performance rates. It also provides users with flexible plans and various payment methods.
The winner is Private Internet Access, which offers better connection speeds, excellent privacy protection, supports multiple protocols and BitTorrent activity. It also covers a wider geographical location.
About the author
References